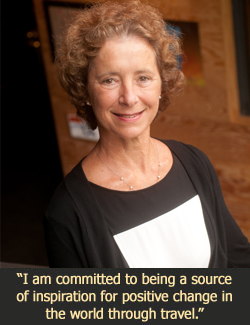 P: 801-483-6533
E: murielle@blackpearlservices.com

Office Hours:
8:00a - 5:00p (M-F)

Office Address:
Morris Murdock Travel
Black Pearl Office
515 South 700 East Suite 1B
Salt Lake City, UT 84102

Office Map: Satellite Zoom
Need Google Earth? Download


Murielle Blanchard
, Travel Specialist
Travel Industry Start Date:
1980
Destination Specialty:
Areas of Expertise:
Romantic Getaways, Luxury, Cruise, Mountain / Ski, Diving
Destination Expertise:
Pearl Program Specialist with Paul Gauguin Cruises
Lifestyle Expertise:
Murielle offers a wide-range of travel experiences such as exotic journeys, small ship expeditions, tailor-made itineraries, cultural discoveries, philanthropic journeys, inspiring retreats and many more. She can offer you the world, Your Way!
Awards & Industry Training:
Murielle was selected out of tens of thousands of agents to make the prestigious "Travel & Leisure A-List" four years in a row (2012, 2013, 2014, 2015) as a specialist for France and Italy.
Places I've Traveled:
The Nubian Desert in Sudan; North, West, East and South Africa, Madagascar; Comoro Islands; Seychelles Islands; Peru; Vietnam; Thailand; Cambodia; Bhutan; Guatemala; Djibouti; Mexico; Kenya; Tanzania; Senegal; Burkina Faso; Mali; Botswana; Cameroon; Morocco; Ethiopia; Hawaii; Alaska; St Lucia; Argentina; Patagonia; North Yemen; China; the Sultanat of Oman; the Marquesas Islands; and most countries in Europe including the islands of Malta and Corsica.
Biography:
Murielle is a native of France, but was born in Germany and has had the privilege of being raised in exotic places like Madagascar, Senegal, and Cameroon. From her early youth, Murielle has been exposed to different cultures and environments. From these experiences she has gained a respect for travel and the wealth it can bring to our lives.

Murielle has been a travel professional for 30 years and during that time she has sent clients to dream destinations all over the country and world. She has traveled widely herself and has experienced the most interesting hotels, lodges, and restaurants.

Murielle would be delighted to offer you the benefit of her unique travel background. Life is short and she believes that our lives are enhanced by the trips we take. The world is really a country with many enchanting regions. Whether your next holiday involves family, a romantic getaway, adventure, luxury, or relaxation, Murielle has the ideas, contacts, and wealth of experience to place at your disposal.
Customer Comment:
""Thank you for the welcome home, but much more so for the care and consideration you put into the arrangements for the entire trip. From the independent lodging and transportation to the thorough package of schedules, accounting and sightseeing tips, you made this a no-stress enjoyable experience. You have our thanks and commitment to receiving high marks and positive recommendations in the future." -Best wishes, Bob and Barbara Sluder"
Recent Travel Photos: (Click to enlarge)