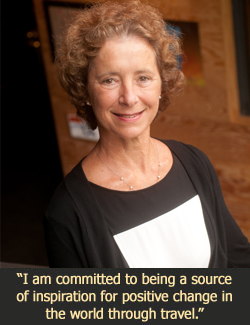 P: 801-483-6533
E: murielle@blackpearlservices.com

Office Hours:
8:00a - 5:00p (M-F)

Office Address:
Morris Murdock Travel
Black Pearl Office
515 South 700 East Suite 1B
Salt Lake City, UT 84102

Office Map: Satellite Zoom
Need Google Earth? Download


Murielle Blanchard
, Travel Specialist
Travel Industry Start Date:
1980
Destination Specialty:
Areas of Expertise:
Romantic Getaways, Luxury, Cruise, Mountain / Ski, Diving
Destination Expertise:
Pearl Program Specialist with Paul Gauguin Cruises
Lifestyle Expertise:
Murielle offers a wide-range of travel experiences such as exotic journeys, small ship expeditions, tailor-made itineraries, cultural discoveries, philanthropic journeys, inspiring retreats and many more. She can offer you the world, Your Way!
Awards & Industry Training:
Murielle was selected out of tens of thousands of agents to make the prestigious "Travel & Leisure A-List" four years in a row (2012, 2013, 2014, 2015) as a specialist for France and Italy.
Places I've Traveled:
The Nubian Desert in Sudan; North, West, East and South Africa, Madagascar; Comoro Islands; Seychelles Islands; Peru; Vietnam; Thailand; Cambodia; Bhutan; Guatemala; Djibouti; Mexico; Kenya; Tanzania; Senegal; Burkina Faso; Mali; Botswana; Cameroon; Morocco; Ethiopia; Hawaii; Alaska; St Lucia; Argentina; Patagonia; North Yemen; China; the Sultanat of Oman; the Marquesas Islands; and most countries in Europe including the islands of Malta and Corsica.
Biography:
Murielle is a native of France, but was born in Germany and has had the privilege of being raised in exotic places like Madagascar, Senegal, and Cameroon. From her early youth, Murielle has been exposed to different cultures and environments. From these experiences she has gained a respect for travel and the wealth it can bring to our lives.

Murielle has been a travel professional for 30 years and during that time she has sent clients to dream destinations all over the country and world. She has traveled widely herself and has experienced the most interesting hotels, lodges, and restaurants.

Murielle would be delighted to offer you the benefit of her unique travel background. Life is short and she believes that our lives are enhanced by the trips we take. The world is really a country with many enchanting regions. Whether your next holiday involves family, a romantic getaway, adventure, luxury, or relaxation, Murielle has the ideas, contacts, and wealth of experience to place at your disposal.
Customer Comment:
""Bonjour Murielle,

Now that our luggage is put away, the numerous photos are downloaded, and family and friends have stopped asking us about our incredible trip to France, we didn't want to let more time go by without letting you know how EXTREMELY grateful we are to you for putting together such an amazing vacation. We cannot stop talking about how wonderful our France vacation was. And we couldn't have had such a magical experience had it not been for you. THANK YOU -- MERCI -- THANK YOU!!!

Everything was remarkable! The hotels you selected (their locations could not have been any better); our tours were remarkable; restaurant and site recommendations phenomenal; our transportation great (we enjoyed having our car with reliable GPS...it allowed us to wander and explore the magnificent countryside and vineyards)... all TOP NOTCH and FANTASTIC! We appreciated that all our transfers and tours were pre-arranged and prepared, so all we had to do was to "show up". We loved all your recommendations and we were never at a loss for daily activities. All we can say is that the trip would not have been as remarkable had you not assisted putting it together for us. We are still walking on clouds as this was one of the most wonderful trips we have taken. Everything; I mean everything was perfect!!!

>From the bottom of our hearts, thank you for arranging such an amazing trip for us. We look forward to having you assist us with our next traveling "adventures."

Your biggest fans,
Rick & Lulu Carbon

Murielle,
The Italian Lake district to Chamonix to Anncey that you helped guide me to was the trip highlight, as was the time in Beaune riding bikes in vineyards while my daughter was on the Mediterranean coast. Your suggestion that she take the train and meet us in Dijon rather than us driving back south to pick her up was a good one.
Thanks for your help on planning parts of this trip. Since I met you we have spent nearly four months traveling in Europe and it all worked better because of you.
Thanks again.
-Del Draper

Dear Murielle,
You are the absolute best. We would be totally and literally lost without you. Thanks for everything!!!
-John Milliken

Murielle,
We had the most wonderful time. You helped us have a lot of fabulous memories!
Thank you so much.
-Hugh & Diana Hoffman

Hello Murielle,
We just returned from our cruise last night. Well, you did it again! Everything you touched (planned for us) in our behalf was amazing. You even planned perfect weather. The gift in our room from you and the Black Pearl Luxury Services was greatly appreciated. I told you that you were a princess. I have now been to Europe for three weeks and I know what a princess is and yes, you still qualify.
Sonja and I just wanted to say THANK YOU for making our vacation so special. You have done yourself proud!
Love,
-Glen and Sonja

Murielle,
I wanted to thank you for all of your efforts. We truly appreciated all of the tours that you arranged for us. They were amazing!
We will use you again and recommend you highly.
Please if you ever need a reference let me know.
-Kristina Schmidt

Hi Murielle,
I have to tell you that you have done a fabulous job for us!!! The icing on the cake is Hotel Minerva , what an amazing treasure!! They have a garage right under the hotel and they tend our car for us! We had cocktails and dinner here and the experience is phenomenal!

Highly recommend it!!! Our room is superb and staff exceptional! Thank you so much!!!
-Lori Bresnahan

Dear Murielle,
We arrived home yesterday afternoon after a wonderful and memorable trip. We profusely thank you for the excellent advice and assistance that you provided us.
With regard to the French portion of the trip, all aspects were outstanding! Le Relais du Louvre was very well located, comfortable, friendly and very French, just as we had hoped. We patronized two of the recommended restaurants twice each; the food and service were excellent, and they were within walking distance and moderately priced.
The Renaissance barge on the Briare Canal even surpassed our high hopes. Accomodations were spacious and comfortable; the crew members were friendly and very attentive; the scenery was lovely; and the daily expeditions to the various sites were all interesting and unique experiences.Thank you again for your thoughtful and thorough service, and send our best wishes!
- Enid and Rick Grauer"

"
Recent Travel Photos: (Click to enlarge)